(Last Updated On: May 11, 2021)
I wanted to compile a list of podcasts you can listen to that will spark creativity, inspiration, motivation, and action-taking. Bookmark this page and check back often to see what podcasts get added to this ever-growing list.
Knowledge is critical; we all know that, but we often do not embrace it daily. The more you feed your brain with valuable content, the more valuable you become to whatever industry you are a part of. I knew this was important, but it became etched in my brain after attending a private networking event in Atlanta, GA. Hosted by Matt Bacak.
One of the biggest takeaways from the trip was that everyone I talked to was a sponge when it came to consistently enrich their minds with daily shots of value from other top influences in the industry.
Makes sense, right?
I think I listened to 15 hours' worth of podcasts during the trip. If there is one thing that can blast your dome with gravy, it is looking to podcasts daily.
So as I traveled back from Hotlanta, I decided to conjure up an ever-growing list of mind-blowing podcasts. These will help you become even more valuable in your entrepreneurial craft.
Another thing is that it's so easy to listen to a podcast. Just stream it on your favorite podcast app and enjoy. If you tell me you don't have time to listen to a podcast, then I think you need to re-evaluate your time management.
Here are some mind piercing podcasts I have on my Podcast app that I think you'll benefit from as an entrepreneur (No particular order, all great for feeding your brain)
The GaryVee Audio Experience
Gary Vaynerchuk is a bonified Rockstar; I Love this dude! Raw, real, and in your face… however, 110% legit! If you are not jacked up after listening to Gary Vee, you need to immediately check out by a doctor. This podcast is an absolute must on your playlist.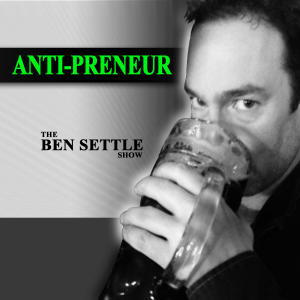 Anti-preneur – The Ben Settle Show
This podcast is definitely an acquired taste for some people. Ben marches to the beat of his own drum and tells you like it is whether you like it or not, so going in with an open mind is a good idea. Tons of value, though, so I recommend tuning in.
Cardone Zone with Grant Cardone
Grant Cardone can also come off a bit arrogant, to be completely honest. When I first started listening to him, I wasn't a big fan and wondered what all the hype was. If you can get past his over the top personality, he does drop some golden nuggets about business. Give Grant a chance; I think you will be pleasantly surprised with what he brings to the table.
Entrepreneur On Fire – John Lee Dumas –
John Lee Dumas is full of energy and a beast when it comes to having quality guests on his podcast. He has interviewed some top-notch Entrepreneurs, including Seth Godin, Tony Robbins, Gary Vaynerchuk, Barbara Corcoran, Tim Ferris, and many more. The question is, are you ready to ignite? Well worth putting EOFire on your playlist!
The 5 AM Miracle with Jeff Sanders
Productivity is vital when it comes to living a purpose filled life and running a successful business. Every Monday morning, Jeff Sanders helps you rule your day and implement the best productivity tactics to help you be your best.
Envision being able to leap out of bed with enthusiasm! You'll learn how to formulate powerful lifelong habits and tackle your most ambitious goals with extraordinary energy. This podcast focuses on forming healthy habits, productivity, and personal development.
The Art of Likability by Arel Moodie
Becoming more likable is essential to building stronger relationships in your business and personal life. Arel Moodie offers smart, action-oriented advice to help you become an expert artist of likability. Fact is, likability brings more prosperity and happiness, and who doesn't want that? Make sure to tune in; you'll love it
Smart Passive Income Podcast
Pat Flynn was one of the first marketers I gravitated to when I first started my business. He's Very transparent and brings value to every episode.
You'll learn all of his online business and blogging tactics, revenue sources, and tips and tricks to grow your online business or blog.
He also dives into passive income streams that work. Make sure to tune into this one; it's a keeper
The Tim Ferris Show
Tim Ferris has been described as "the world's best human guinea pig."
He is a self-experimenter and bestselling author of The 4-Hour Workweek. He has some incredible interviews Dax Shepard, Matthew McConaughey, Jamie Fox, Maria Popova, Seth Godin, Kevin Hart, Edward Norton, and many more. Dive in friends and soak up the knowledge of Tim Ferris.
Source: themodelhealthshow.com
The Model Health Show with Shawn Stevenson
This is more of a fitness/health podcast. You have to stay healthy to be productive, right? The insights you get here will help you change your health and live your best life ever. Well worth your time to put this in your podcast library.
GSD Mode Podcast by Joshua Smith
GSD = Get S*&t Done! This podcast was brought to my attention by fellow entrepreneur Gemma Chain. Joshua can definitely whip your mindset into shape and get you hustling. He motivates you and brings the heat every episode;)
If you're looking to create an epic life, tune in today!
Conclusion
This list would not be complete without listing The Freddy "O" Show (Yeah, it's my podcast that I genuinely think you will like).
Make sure you tune into the above podcasts and check back often because I am consistently looking for other podcasts to thrive with. Also, reading books or listening to audiobooks are another surefire way to increase your knowledge so you can be a value to the industry you're part of.
"You are what you do, not what you say you'll do." – C.J. Jung
#ENTREPRENEUR #FAITHFOCUSFINISH
Did I miss one of your favorites? Comment below to give your take!